You can download the latest GroundControl Launchpad from the Launchpad page. Please refer to the documentation on Installing the Launchpad.

The Launchpad List available through the Web Console allows you to monitor all company Launchpads.

There are five columns for each Launchpad.
Name: The name of the Launchpad, set by you when registering
Devices: The number of iOS devices connected to that Launchpad at that particular moment
Version: This is the version of your Launchpad
Last Seen: How recently this Launchpad was in touch with the server
Attributes: If values for Attributes have been entered, they will be displayed here.
 Use the filter bar to filter the Launchpad list by name or by attributes:

Click on the row where a Launchpad is listed to see its Launchpad Details and connected devices: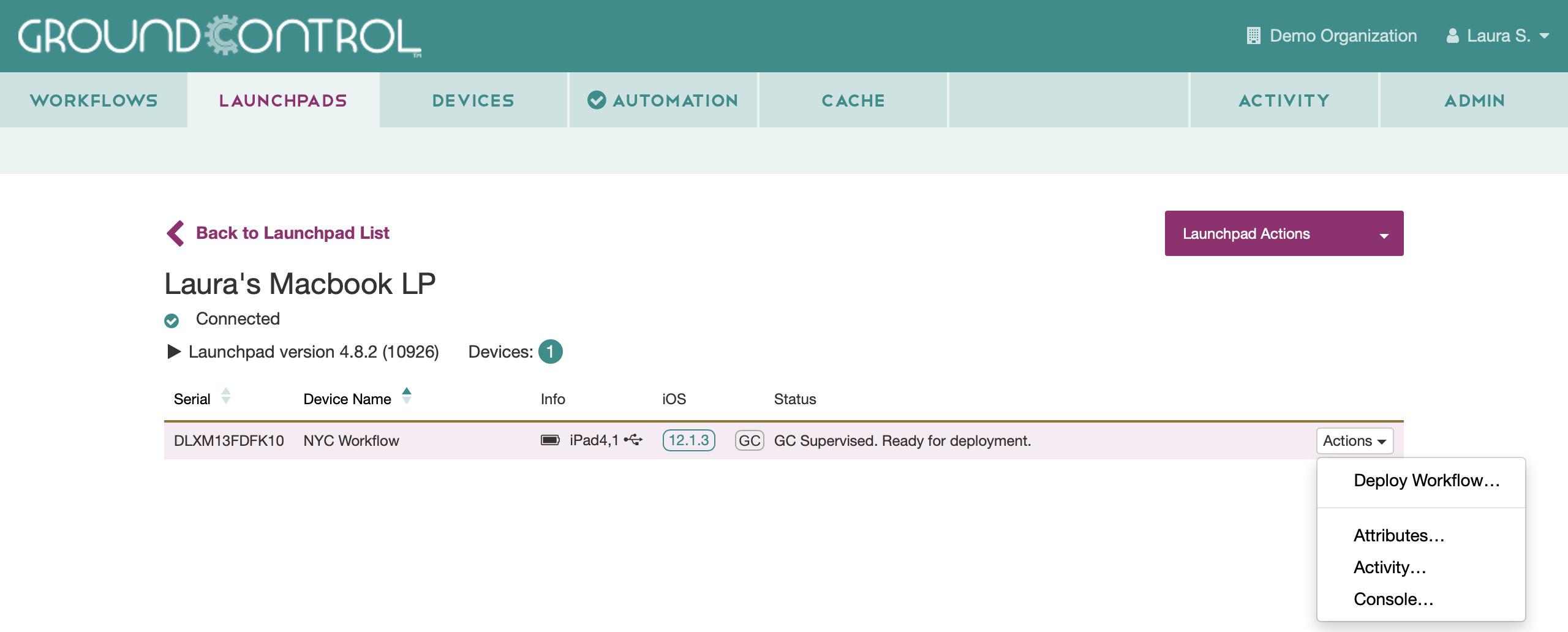 At the end of a device, you'll see an "Actions" menu, which allows you to deploy and access device data, including the Console. The Console actually displays a real-time stream of events from your iOS device, a helpful tool for troubleshooting device issues, especially with MDM and app installations.
Launchpad Actions
Via the Launchpad List, you can manage a fleet of Launchpads remotely with the options to Deploy, Warm iOS Cache, Upgrade, Clear Asset Cache, Restart, Delete, and Export Launchpads.

Deploy Workflow
This displays a list of workflows to deploy. All available devices connected to the selected Launchpad(s) will be configured with this workflow.
Upgrade Launchpads
Starting with GroundControl 2.9 or later, Launchpads can be upgraded remotely to the newest version available. Launchpads running version 2.8.1 or earlier cannot be upgraded remotely, but can still be updated manually from the application menu. Upgrades also now work for offline Launchpads too, so that the upgrade is performed as soon as the Launchpads come online. 
Note: To ensure remote upgrades are successful, Mac Launchpads should be running from the Applications folder on Mac OS (not the .dmg file).
Clear Asset Cache 
Clearing the cache will delete all files from the Launchpad's local asset cache. For additional information, visit our page on maintaining the Launchpad asset cache.
Delete Launchpads
When ready to retire one or multiple Launchpads, select "Delete Launchpads…". This will remove the Launchpad(s) from the Launchpad List and reset the Launchpad application to its defaults. This deletes all assets, resets defaults and removes registration from the application.
Export Launchpads
This will export a .csv file listing helpful Launchpad data, including Name, Version, Platform, IP, and more.