GroundControl uses an Apple library called MobileDevice for certain operations, specifically iOS Updates. This library is built into macOS. On Windows, GroundControl links to a copy of MobileDevice included with Apple iTunes. Apple will update MobileDevice from time to time to support new devices or a new version of iOS / iPadOS.
iOS Version
Minimum MobileDevice Version
Minimum iTunes Version
Notes
iOS 12.1.1
MobileDevice 988.220.5
iOS 13
MobileDevice 1190
iTunes 12.10
Win64 | Win32
Use these links prior to GroundControl 4.10.2
iOS 14
MobileDevice 1253
Win64 | Win32
Use these links for GroundControl 4.10.2+
iOS 14.5
MobileDevice 1253.100
Win64 | Win32
iOS 15
MobileDevice 1253.100.1
Win64 | Win32
iOS 15.1
MobileDevice 1351.1
Win64 | Win32
iOS 14 requires a new version of MobileDevice bundled with iTunes 12.10.9.3 on Windows.  However, this new version is only compatible with Launchpad 4.10.2 and later. Please do not upgrade iTunes or MobileDevice until you have upgraded to 4.10.2 Launchpad.See more info here about iOS 14 readiness.
Check your version of Apple MobileDevice
GroundControl displays the version of Apple MobileDevice in the Launchpad and in the admin console's Launchpad Detail page. Click the triangle next to the Launchpad version display to show the OS version and the MobileDevice version. You can also export this data via Launchpad actions.

Download iTunes for Windows
Apple distributes iTunes on the Windows Store and as a standalone installed. GroundControl supports only the standalone version of iTunes. You may download these from apple.com using the link in the table at the top of this page. Links to both iTunes 12.10.8.5 (prior to Launchpad 4.10.2) and the latest version of iTunes for compatibility with the Launchpad 4.10.2+ are provided.
Once downloaded, you may either install iTunes, or extract the MobileDevice libraries from the installer for silent iTunes-free installation. Please note installing iTunes or MobileDevice requires a PC restart in order for the change to take effect.
Install iTunes on Windows
Once iTunes is installed, you must check a checkbox to prevent it from activating devices. Please don't skip this step!
Open iTunes, then open Preferences > Devices. Check the box "Prevent iPods, iPhones, and iPads from syncing automatically." Finally, exit the iTunes app (closing the window is not sufficient).

How to extract DLLs from iTunes
If you do not wish to install the full iTunes, you can follow these instructions to install the required MSI(s). You may include these in a custom GroundControl Launchpad installer for your PCs.
Extract the iTunes installer with a tool such as 7-Zip
Locate and install the following MSIs
For iTunes 12.10.9.3 or later
Win32, the only MSI file required is: AppleMobileDeviceSupport.msi
Win64, the only MSI file required i: AppleMobileDeviceSupport64.msi
For iTunes 12.10 or earlier
Win32 the files are:
AppleApplicationSupport.msi
AppleMobileDeviceSupport.msi
Win64 the files are:
AppleApplicationSupport.msi
AppleApplicationSupport64.msi
AppleMobileDeviceSupport64.msi
Please note all files listed above are required.
Update MobileDevice
New versions of iOS may require new versions of MobileDevice for updating or restoring devices. See the chart at the top of this page for versions. However, Apple doesn't distribute a standalone package for updating MobileDevice.
Windows
You have two options to update MobileDevice on Windows:
Full iTunes install: Use the Apple Software Update utility in your Start menu, or use the links at the top of this page.
Extract DLLs: Download the latest iTunes using the links at the top of this page, and extract the DLLs again, using the process described above. Distribute the new DLLs using your software distribution method of choice.
Mac
Mac OS 10.15 or later:
Navigate to about this Mac> System Preferences> Software Update
Under "Other updates are available", click on More Info…
Select Device Support Update and Click Install Now.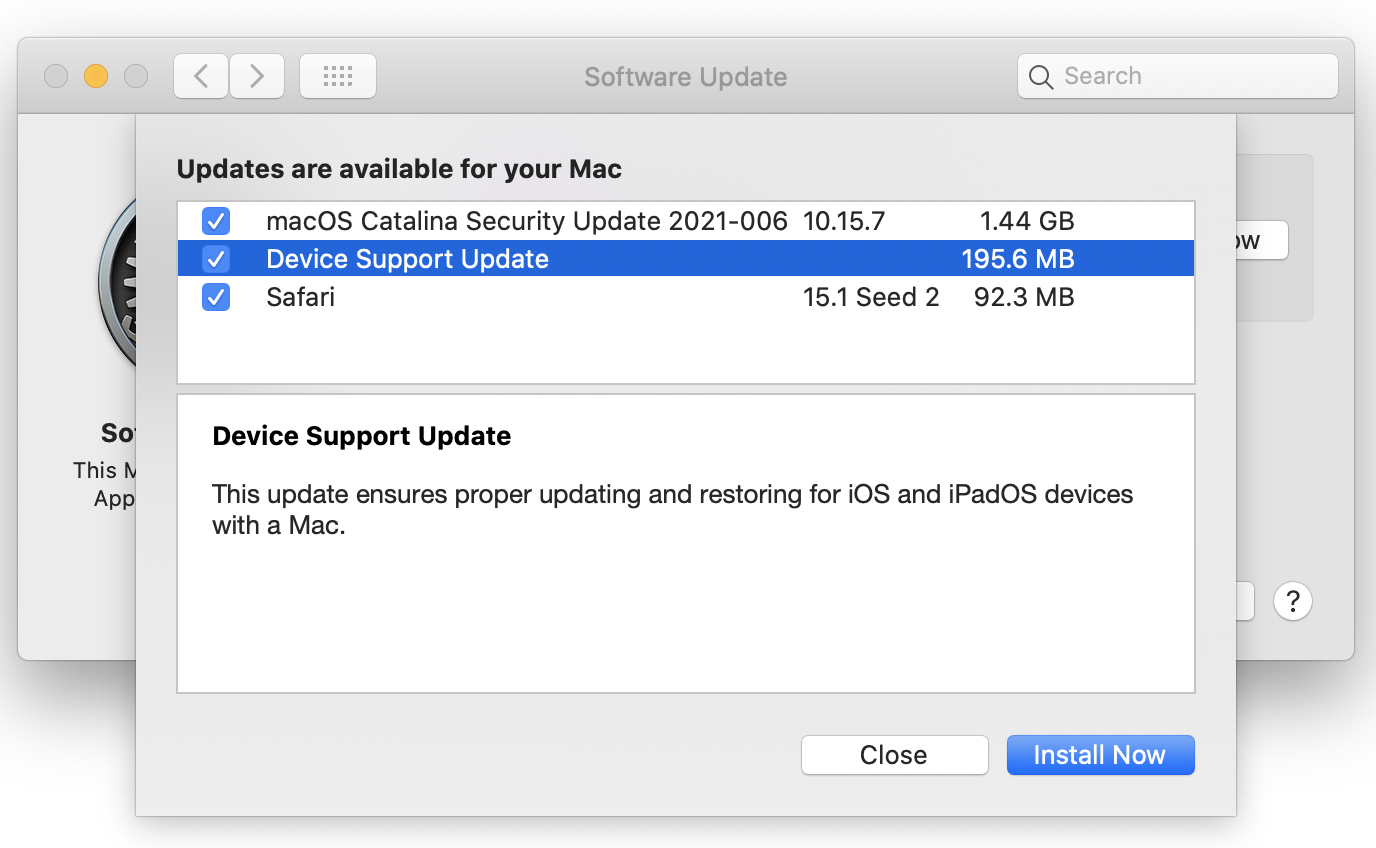 Mac 10.14 or earlier
The only known way to update MobileDevice on Mac 10.14 or earlier is to perform the following steps:
Over the air, update one iOS device to the latest iOS version. This can be a personal device or corporate device.
Exit the GroundControl Launchpad app.
Plug in the updated iOS device to your Mac. The Mac should prompt you to update your MobileDevice software
Click Install, which begins an update mechanism for MobileDevice.
Disconnect your device.
Resume using the Launchpad app.
Unfortunately, this process can not be automated across many Macs.
Troubleshooting MobileDevice
On Windows, iTunes 12.10.9.3 and the MobileDevice components bundled with that version are not compatible with GroundControl Launchpad 4.10.1 or earlier. Make sure you're running 4.10.2 or later. If your PC is having issues recognizing devices or the Launchpad will not start up, please try the following:
1. Please uninstall all Apple support components and iTunes from Programs & Features, and iTunes is installed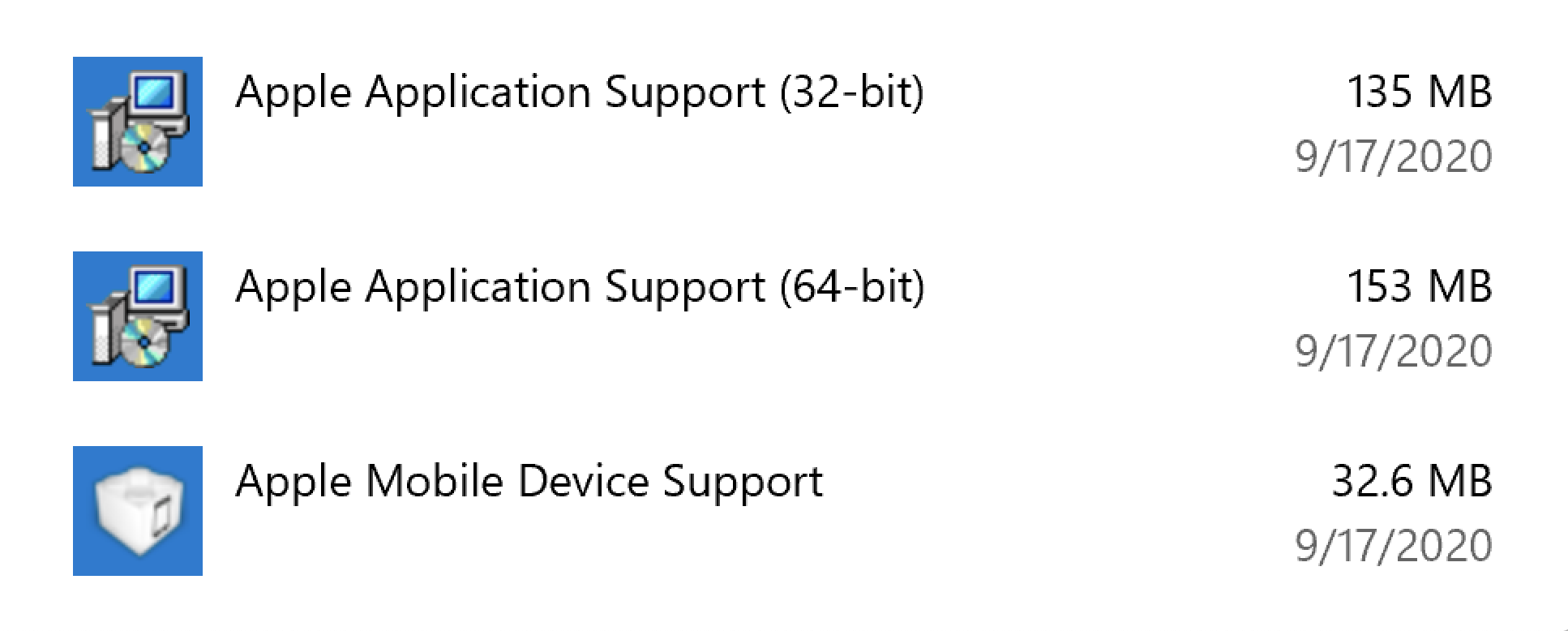 2. Once all Apple software is uninstalled, please install iTunes or extract the MSIs applicable to iTunes version you're installing using the links at the top of the page.