Introduction
Rule-based Workflow deployment is a powerful system to automatically select and deploy Workflows to devices based on the criteria you choose. It works like this:
You plug an iOS device into a GroundControl Launchpad.
The GroundControl launchpad reads basic device information, including serial number, UDID, and model, and sends this information to the GroundControl server.
The GroundControl server determines which workflows to deploy, if any.
The GroundControl server tells the Launchpad to deploy the specified workflows sequentially.
For example, you can set up workflows to deploy when an iPod touch is connected, and another for iPad Air. You can also leverage Launchpad tagging, so your launchpads in the Pacific time zone receive an image with time zone set appropriately.
Important note about automation

When this check mark appears on the Automation tab, it means that at least one rule is set to ON, and workflows will deploy automatically when a device is connected.
Caution: the Automation checkmark should be OFF when you are deploying manually.
Terminology
| Term | Definition |
| --- | --- |
| Rule | A condition or conditions, each of which matches true or false. For example, Condition 1: "Device Type … Is … iPad4,1″ Condition 2: "Launchpad … Contains … Mac"Note that for the rule to operate, all Conditions (1 and 2) must be true; and automation must be enabled (set to On). |
| Default Workflow | If no rule matches, then the workflow specified by the Default Workflow is used; this may also be set to "none" |
Creating A Rule
Click on the "Automation" tab and click on the "New Rule" button. Enter a name for the Rule in the "Rule Name" field:

Click "Add condition" to select from the Default rules (always available) and Company Rules (see article on Custom Attributes). When you add multiple conditions, keep in mind they must all be true.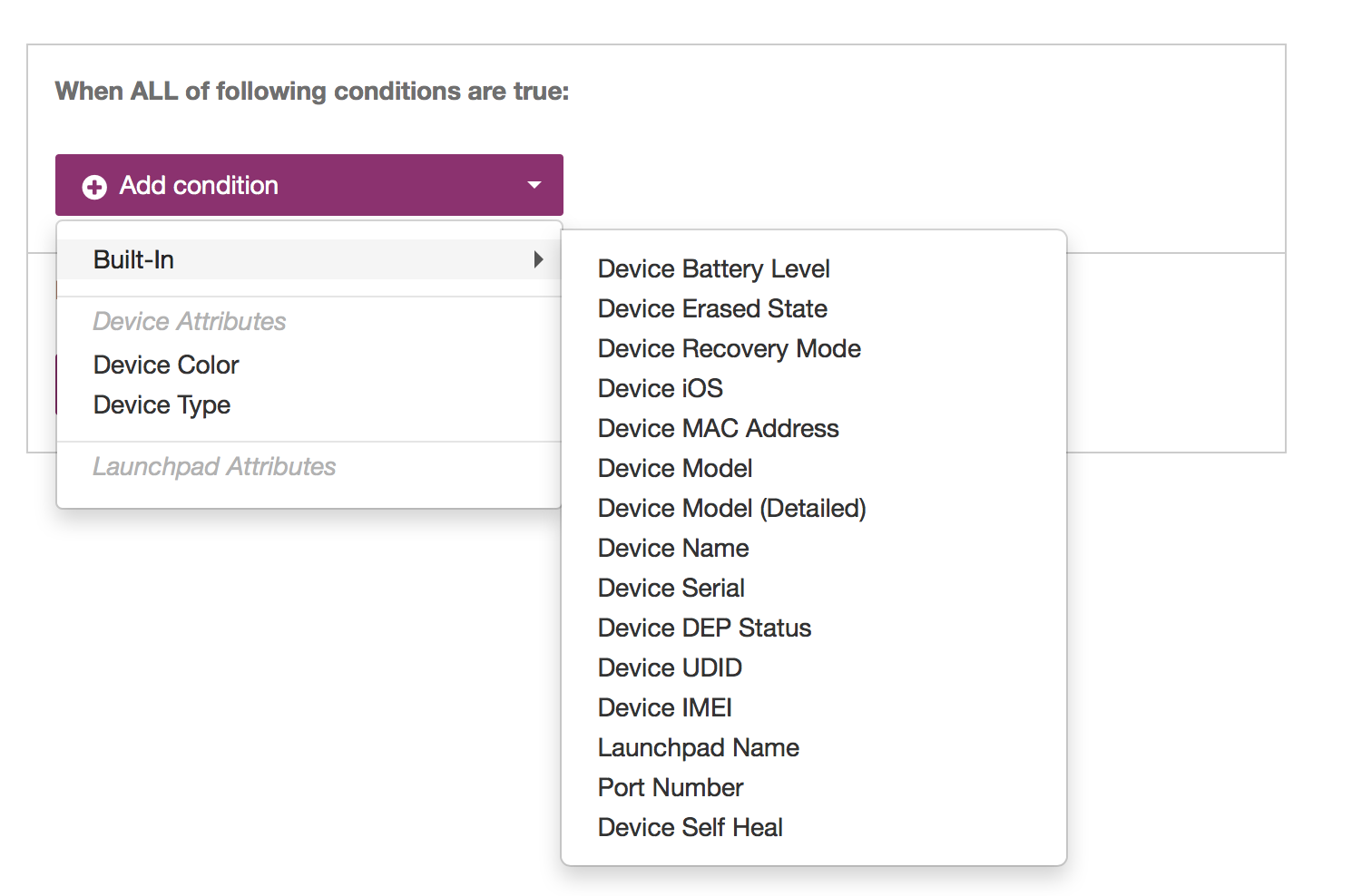 Below is a table of Built-In Conditions:
| Condition | Example |
| --- | --- |
| Device Battery Level | Any whole number from 1 to 100 |
| Device Erased State | Erased, Not Erased |
| Device Recovery Mode | On, Off |
| Device iOS | 9.3.5, 10.3.1, etc. |
| Device MAC Address | Any Launchpad name |
| Device Model | iPad, iPhone, iPod, AppleTV |
| Device Model (Detailed) | iPad4,1 |
| Device Name | iPad 1 |
| Device Serial | AAAA11A1A1AA |
| Device UDID | 111a1a111a11a1111111aa11a1aa111111a111aa |
| Launchpad Name | Any Launchpad name |
Next, click "Choose Workflow…" and select a Workflow: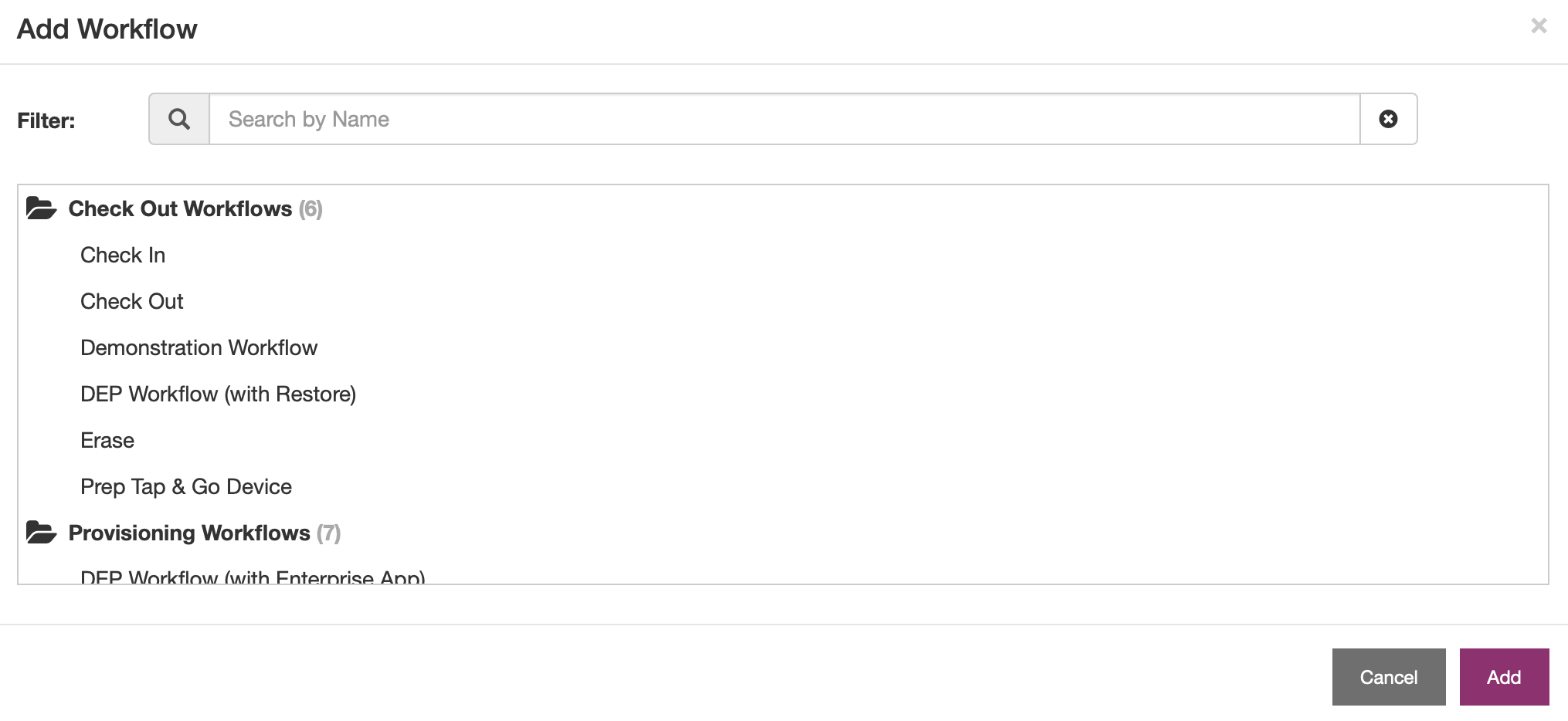 Note: A Rule must have at least one condition and one Workflow. 
Multiple workflows can be deployed sequentially by clicking "Choose Workflows" and selecting additional Workflows. Workflows can be reordered by dragging and dropping the selected Workflows.
In the example below, the device serial number is set as the Condition, and two workflows are selected to deploy in sequence: first, a multiple item workflows (restore+MDM); and then, change the device language to French – all automatically, on connecting the specified devices.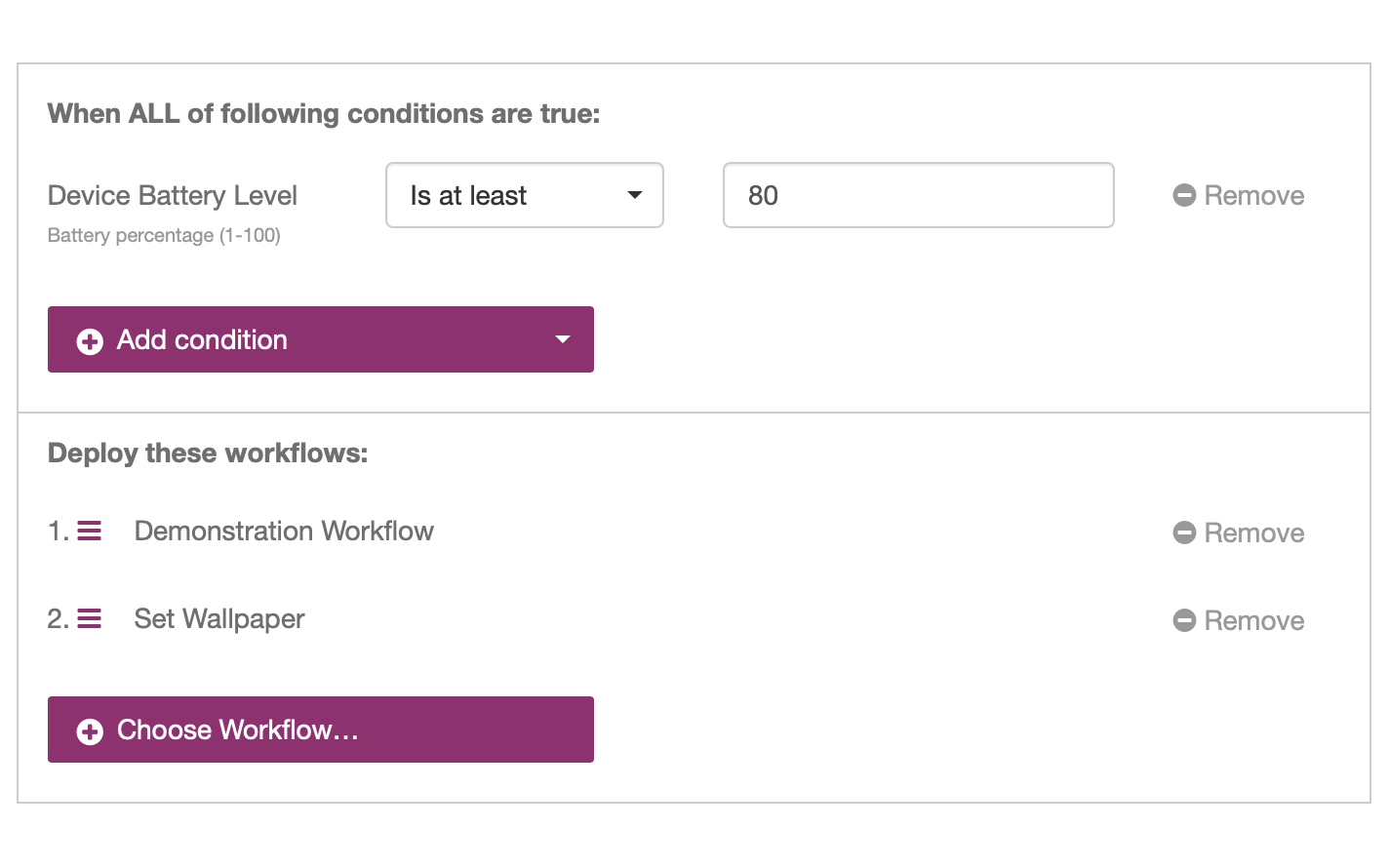 To remove a condition or Workflow, simply click the grey "Remove" button.
Activating and Deactivating Rules
Rules are disabled by default. You can enable them by turning the switch button to ON and pressing Save Rule. You can turn automation ON and OFF in the list view as well: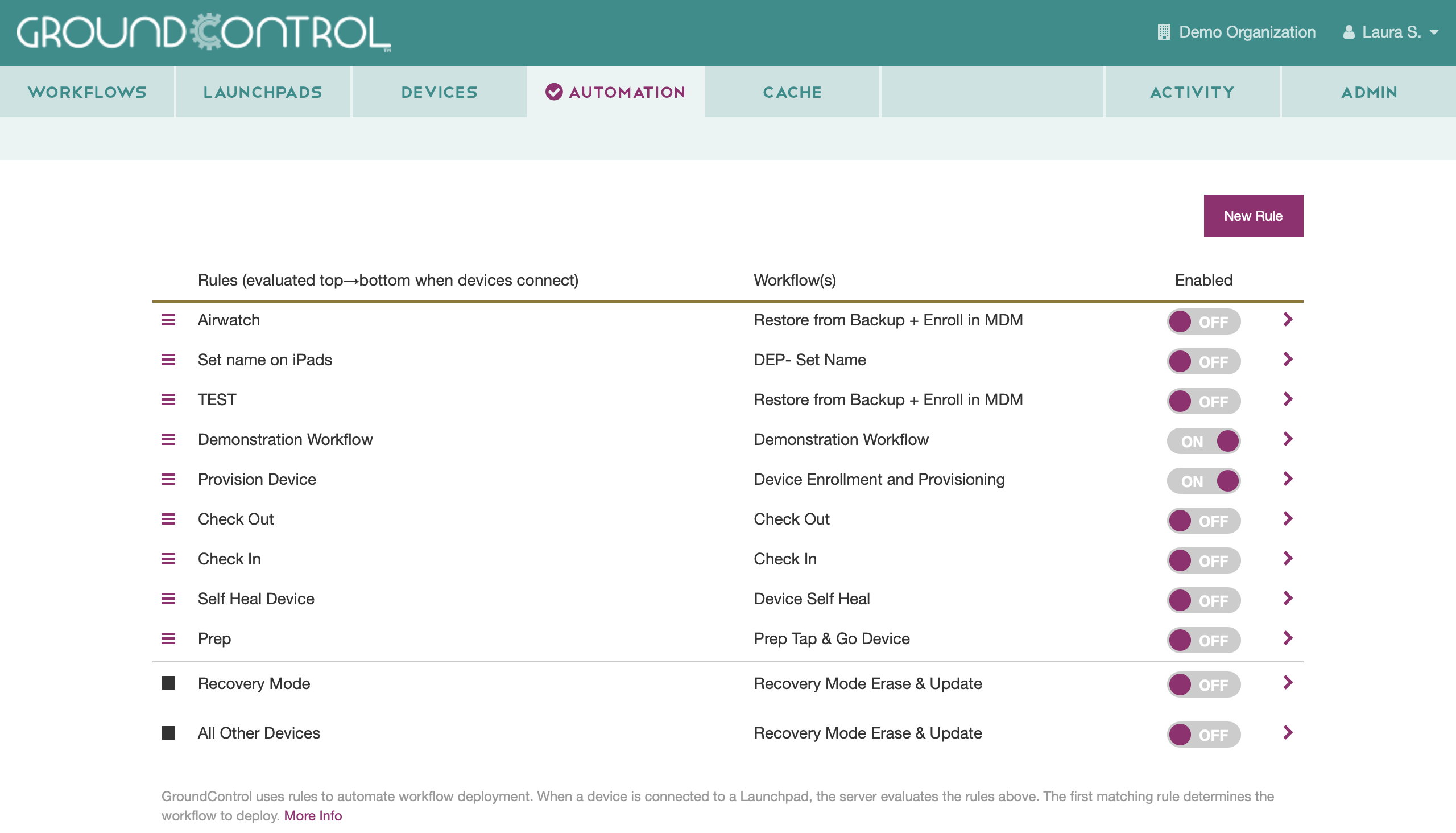 When are Rules Triggered?
| | Are Rules Evaluated? |
| --- | --- |
| Launchpad is running, and device is plugged in | Yes |
| Launchpad starts while Recovery devices are plugged in | Yes |
| Launchpad starts while Non-Recovery devices are plugged in | No |
| Launchpad restarts due to an version upgrade | No |