All iOS devices support a "recovery mode" that allows access to an otherwise inaccessible device. This is sometimes known as "DFU mode" (although technically DFU mode is slightly different).
There are two important trade-offs: The process will always erase all content, and will always upgrade to the latest version of iOS.*
Why use Recovery Mode?
There are several reasons when recovery mode is useful.
It is not convenient to erase the device by other means. For example, the device is in Single App Mode, and you can't get to Settings.
The device is supervised by another Mac and is restricted from erasing all content and settings.
A failed iOS update corrupted the boot process.
You intend to erase and update all devices anyway, and recovery mode is the simplest available solution for bulk enrollments into GroundControl.
In general, recovery mode is useful only for devices that haven't yet been supervised by GroundControl. Once GroundControl is managing the device, all the above operations can be performed without needing recovery mode.
Steps to enter Recovery Mode
Start GroundControl Launchpad on your Mac or Windows PC (make sure iTunes is not running)
Unplug the device from any cables
Turn Off your iPhone, iPod touch, or iPad by holding down the On/Off button on the right side (iPhone 6 or later) or top (all other iPhones, iPods, and iPads), forcing the device to power down.
Press and hold down the Home button on the front of your iPhone, iPod touch, or iPhone.
Plug your iPhone, iPod touch, or iPad into your Mac or Windows PC.
Let go of the Home button when you see the Connect to iTunes screen.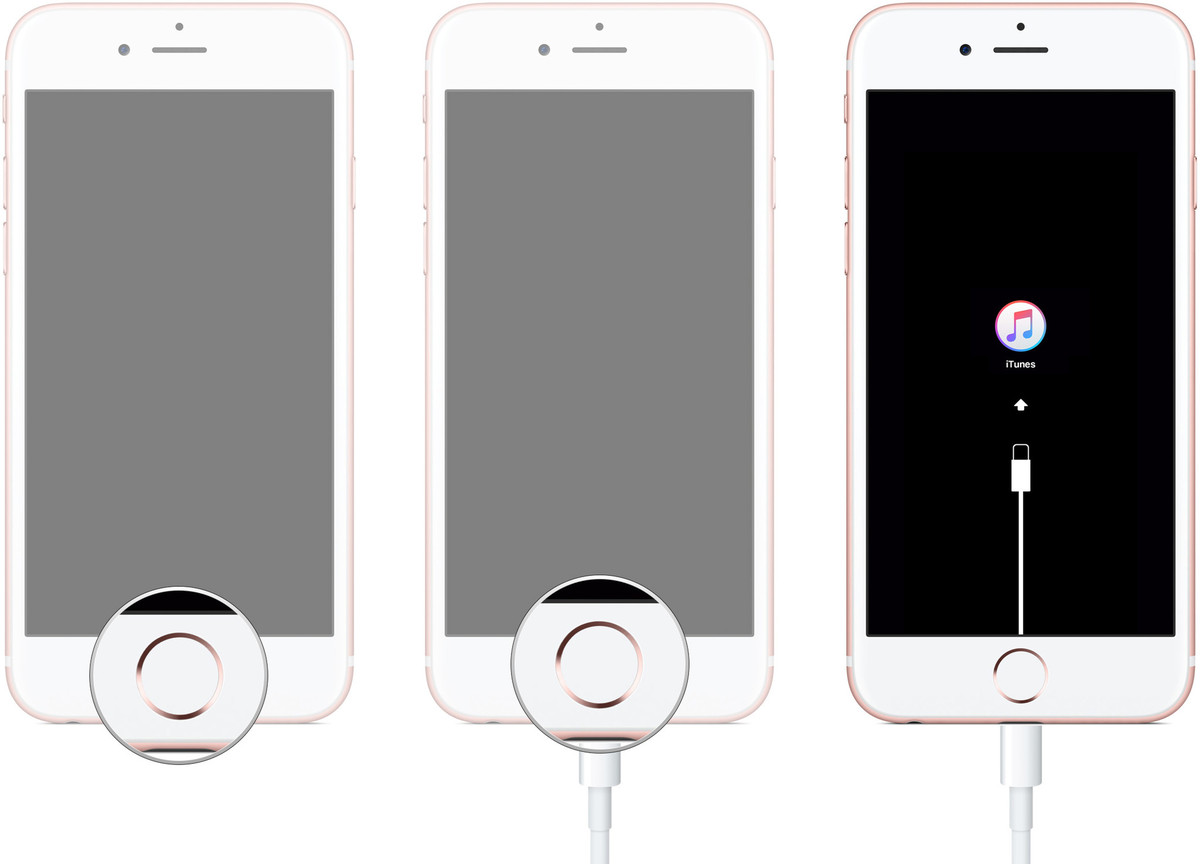 GroundControl will detect the recovery mode device, download the iOS update required (if not already cached) and begin the recovery process. The Launchpad will automatically execute any rules enabled that match the device state. This sequence can help you efficiently baseline all devices in your fleet.
*With GroundControl v3.1 or later, you have the option to continue targeting older iOS versions still being signed by Apple. During this window, GroundControl will allow you to install an earlier iOS version on your recovery devices, even if a newer version of iOS is also available. For additional information, please see our iOS Update FAQ.
Steps to enter Recovery Mode on the  iPhone 8:
The iPhone 8 comes with new methods of forcing restart, entering Recovery Mode, and entering DFU Mode.
Start GroundControl Launchpad on your Mac or Windows PC (make sure iTunes is not running)
Unplug the device from any cables other than the Lightning to USB cable that is connected to your Mac or Windows PC
Press the volume up button, followed by the volume down button
Immediately after, hold the Side button (previously known as the Sleep/Wake button) until the Connect to iTunes logo appears.
Please verify that your GroundControl Launchpad has the device(s)'s status in Recovery Mode.
*Note: Recovery mode deployments, especially in cases with long downloads or multiple devices, may fail during reboot.  To mitigate: download the IPSW into the cache before attaching devices.