Use Restore from Backup to restore device and app settings from a "master" device.
Note that iOS backups are NOT images: they do not include apps or the iOS operating system itself. They may include app content, but that depends on the specific app.
GroundControl makes sure that backups are portable to different devices.
Under most circumstances, an iPhone backup may be restored to an iPad, and vice-versa.
Backups are also portable across iOS versions, as long as the destination is newer than the master. That is, an iOS 10 backup may be restored to an iOS 11 device. But an iOS 11 backup fails when restored to an iOS 10 device.
Backups may be restored to DEP devices, too, as long as (a) the master is enrolled in DEP and (b) you have uploaded GroundControl's supervision identity into your MDM.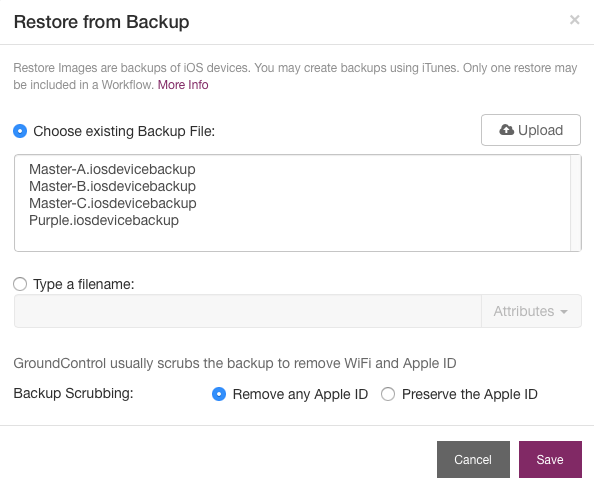 Use the "Choose existing Backup File" radio button to select a single existing backup image to be restored.
As an alternative to selecting an existing file, you may choose "Type a filename" to enter the filename as text. This is useful if you wish to use attributes for intelligent workflows.
To upload a new backup from your hard drive, click the "Upload" button. The maximum upload file size is 2 GB. For instructions, see How do I create a backup?
Backup Scrubbing
By default, GroundControl does some cleanup on the backups you upload. We remove old WiFi networks, MDM enrollment, supervision, and Apple IDs. However, you may intend to reuse the Apple ID on all devices. In this case, chose "Preserve Apple ID" in the restore dialog.
For more information, see our instructions for using a common Apple ID across many devices.
What is Preserved?
| Feature | iOS 10 | iOS 11 | Notes |
| --- | --- | --- | --- |
| Airplane Mode on/off | | | |
| WiFi on/off | | | Useful if Airplane mode is on |
| Bluetooth on/off | | | (May require similar devices for master & clone) |
| AMBER and Weather Alerts | | | |
| Do Not Disturb | | | |
| Brightness Level | | | Auto Brightness was removed in iOS 11 |
| Raise to Wake | | | |
| Automatically lock after... | | | |
| Passcode Required After... | | | |
| Text Size | | | |
| Siri on/off | | | |
| Battery Percentage on/off | | | |
| Location Services on/off | | | Settings > General > Privacy > Location Services |
| Apple ID (iTunes Store) | | | GroundControl's "Backup Scrubbing" must be disabled |
| Accessibility: Large Text, Reduce Motion, Assistive Touch | | | |
| Background App Refresh | | | |
| Restrictions Passcode | | | |
| Add/Set Keyboards | | | |
| Text Replacements | | | |
| Enterprise App Trust | | | Useful if you don't have MDM |
| Contacts | | | Contact list is preserved from master to slave |