The Restore from Backup action allows you to upload an iOS backup created in iTunes or Configurator to GroundControl, which can be used to further customize your devices.
Please note while many settings are preserved in a backup, iOS backups are NOT exact, mirror images of an iOS device: they do not include actual applications or the iOS operating system itself.
Important: Backups may include app content and settings, but that really depends on the specific app. If your backup includes an application with particular settings, we recommend testing your workflow thoroughly to confirm desired results.
GroundControl makes sure that backups are portable to different devices.
Under most circumstances, an iPhone backup may be restored to an iPad, and vice-versa.
Backups are also portable across iOS versions, as long as the destination is newer than the master. That is, an iOS 10 backup may be restored to an iOS 11 device. But an iOS 11 backup fails when restored to an iOS 10 device.
Backups may be restored to DEP devices, too, as long as (a) the master is enrolled in DEP and (b) you have uploaded GroundControl's supervision identity into your MDM.
Starting with v4.5, encrypted backups are supported!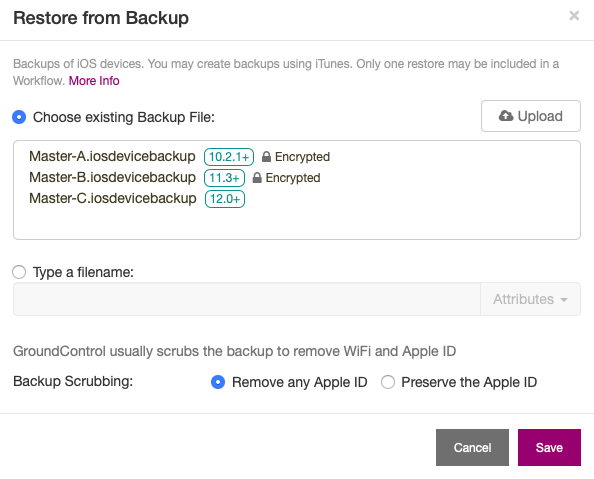 Use the "Choose existing Backup File" radio button to select a single existing backup image to be restored.
As an alternative to selecting an existing file, you may choose "Type a filename" to enter the filename as text. This is useful if you wish to use attributes for intelligent workflows.
To upload a new backup , click the "Upload" button. The maximum upload file size is 4 GB. For instructions, see How do I create a backup?
Working with Encrypted backups
GroundControl now detects encrypted backups when uploaded, and prompts you for a password. 

In addition, any new backups added — encrypted or not — have the backup OS version indicated within GroundControl. This helps you troubleshoot why, for example, your backup works with devices running iOS 11.4, but not 11.1.

Some things to remember:
If you accidentally entered the wrong password for an encrypted backup, you'll need to replace the asset (this can be done via the Cache tab).  Password editing is not supported at this time.
Backups added before v4.5 can be re-uploaded if you want to capture the helpful iOS version and backup type in GroundControl.
Backup Scrubbing
By default, GroundControl does some cleanup on the backups you upload. We remove old WiFi networks, MDM enrollment, supervision, and Apple IDs. However, you may intend to reuse the Apple ID on all devices. In this case, chose "Preserve Apple ID" in the restore dialog.
For more information, see our instructions for using a common Apple ID across many devices.
What is Preserved?
| Feature | iOS 10 | iOS 11 | Notes |
| --- | --- | --- | --- |
| Airplane Mode on/off | | | |
| WiFi on/off | | | Useful if Airplane mode is on |
| Bluetooth on/off | | | (May require similar devices for master & clone) |
| AMBER and Weather Alerts | | | |
| Do Not Disturb | | | |
| Brightness Level | | | |
| Raise to Wake | | | |
| Automatically lock after... | | | |
| Passcode Required After... | | | |
| Text Size | | | |
| Siri on/off | | | |
| Battery Percentage on/off | | | |
| Location Services on/off | | | Settings > General > Privacy > Location Services |
| Apple ID (iTunes Store) | | | GroundControl's "Backup Scrubbing" must be disabled |
| Accessibility: Large Text, Reduce Motion, Assistive Touch | | | |
| Background App Refresh | | | |
| Restrictions Passcode | | | |
| Add/Set Keyboards | | | |
| Text Replacements | | | |
| Enterprise App Trust | | | Useful if you don't have MDM |
| Contacts | | | Contact list is preserved from master to slave |