Obtaining the App
GroundControl locks devices using a Custom B2B App, which is distributed through Apple's iTunes VPP program. There is no charge for the Imprivata Locker app for iOS.
To obtain the app, email support@imprivata.com with the following information:
Your organization's DEP ID
Exact organization name as it appears in Apple Business Manager
Also make sure Custom Apps are enabled for your organization within Apple Business Manager. It may take 1-2 days for the app to appear in your list of Custom Apps.
After the app shows within ABM, your ABM administrator must "purchase" (for free) a number of copies of the app. It does not matter how many copies are purchased, but it should be sufficient to cover the quantity of devices you have.
After purchase, the app appears within your MDM alongside other VPP apps. Configure your MDM to automatically deploy your apps to the appropriate group of devices on enrollment. Ensure that the Imprivata Locker app is allowed through your MDM profiles and it's not hidden or uninstalled during Check In or Check Out workflows.
Locker App Details
Imprivata Locker for iOS 3.x
App ID: com.imprivata.b2b.locker
External ID: 1569836501
App Icon:
GroundControl Locker 2.0 + was supported through the end of 2021. You must migrate to Imprivata Locker for iOS. Instructions on how to migrate can be found in this article.
Configure an Emergency Unlock PIN
When happens when someone accidentally unplugged a cable, or the network is offline? At some point you may need to unlock a device when GroundControl is not available. The Imprivata Locker app for iOS includes a "Back Door" feature to unlock phones in case of emergencies. Unlock PIN is an optional feature and is not a requirement.
The Unlock PIN is configured via AppConfig in your MDM server.
PIN entry requires no GroundControl access and no network access to unlock the device.
The Unlock PIN may be any number between 4 and 8 digits.
You may change the Unlock PIN as often as you like.
You may assign different Unlock PINs to different groups of devices, using AppConfig features on your MDM server.
Once set up, unlocking a phone is easy.
Unplug one of the locked devices from USB.
Tap the padlock icon to display the numeric keypad.
Enter the Unlock PIN.
When the device has been unlocked in this way, GroundControl records the device was "Unlocked by PIN," but does not know the identity of the user.
Like passwords, we recommend that you change the Unlock PIN regularly.
On successful unlock, GroundControl can Automate a workflow. The automation must use the trigger Unlocked via PIN Unlocked, and the workflow uses the workflow model "Over the Air."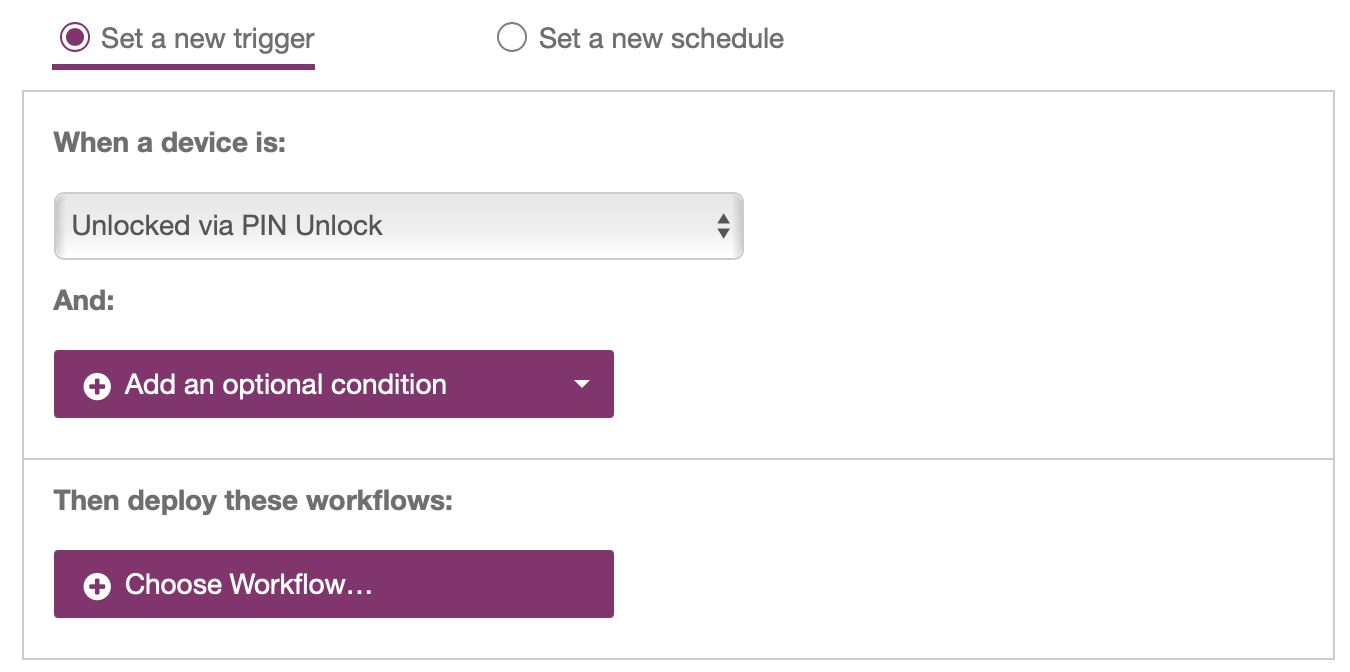 AppConfig Options
Like any well-mannered app, Imprivata Locker for iOS supports AppConfig. Below are available settings. Most users will leave these at the default settings, except for Unlock PIN.
| Key | Type | Default | Description |
| --- | --- | --- | --- |
| UnlockPIN | string | (none) | Sets the emergency Unlock PIN, 4-8 digits |
| AllowManualLock | boolean | false | Allows you to tap on the padlock icon to lock the device. |
| InterappPreDelay | integer (may also be referred to as a number) | 3 | Seconds to wait after receiving a Lock command and before starting any logout routines. |
| InterappPostDelay | integer (may also be referred to as a number) | 0 | Seconds to wait after finishing the interapp API routine and before entering Single App Mode. |
| MaxInterappAttempts | integer (may also be referred to as a number) | 8 | Number of retries before attempting app logout during interapp API routine |
| ActiveBrightness | integer (may also be referred to as a number) | 100 | 0-100. Screen brightness when Locker app is woken up. |