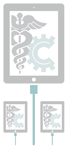 GroundControl is Healthcare's most effective way to scale iOS devices across your healthcare network. Now you can deploy iPads, iPhones and iPods efficiently to all hospital Staff , Nurses and Patients while maintaining confidentiality of Personal Health Information (PHI) as required by HIPAA.
GroundControl is efficient, simple, fast & compliant
Use GroundControl to instantly reset and wipe clean iOS devices, using existing Mac or Windows PCs, all managed centrally by your mobility team.
Enables large-scale iOS Patient Engagement, Safety and Care Initiatives
With GroundControl, any staff member can restore an iOS device to its designated configuration automatically—simply plug it into a Mac or PC.
GroundControl enables previously challenging patient engagement and staff healthcare initiatives
No more day-to-day IT staff interaction for iOS devices
No screen touch—devices are ready for use in 2 minutes or less
COMPLIANT
Enables complete wipe of PHI from the device — programmatically

EFFICIENT
Deploy, supervise, and update on-site in 2 minutes or less, and as often as required

AUTOMATED
The right workflows and profiles are pushed to the right devices — automatically

VERSATILE
Runs on Mac or Windows and works with any MDM

TOUCHLESS
Non-technical — simply plug in a device and it's quickly up, running and compliant

SECURE
Fully encrypted, multiple roles, and integrates with SSO
To request a demo, obtain an evaluation license, or to speak with someone, kindly fill in the form below.