---

Shared iDevice management is hard.
GroundControl makes it really easy.
What can GroundControl…control?
GroundControl directly configures Apple mobile devices through USB, and indirectly manages your mobile infrastructure through third party APIs. This allows your mobile services — MDM, WiFi controllers, apps, caching servers, and DEP if you have it — to work in concert in ways you only dreamed possible.
Digitally "sanitize" shared devices to remove personal data
Enable "Self-Healing" of misconfigured devices
Set up or re-provision devices with TRUE zero-touch
Lock devices to specific apps, or lock out Apple IDs and iCloud
Block unapproved WiFi networks
Switch devices from one MDM server to another
Set specific app settings for groups of devices
Keep iOS and apps up to date to maintain security, but without interrupting the work day.
Is GroundControl an MDM?
No, but we work with your existing MDM. By supervising devices, GroundControl unlocks more than 20 enterprise management features in your existing MDM system. These include single app mode, silent app push, and restrictions to AirDrop, Messages, wallpaper, device name, and even Erase.
GroundControl also leverages the APIs of select MDM systems to automate the tedious enrollment process. We inform your MDM that a new enrollment is beginning, so the MDM can be prepared to send apps and policies without delays. And post-enrollment, we can assign devices to organization groups, to labels, or even to specific users.
Why isn't DEP enough?
We  DEP, because DEP automates much of the device setup process. However, there's more to mobile management than setup.
For starters, Apple ships iOS devices with wireless disabled. That's why over-the-air configuration, such as DEP, is never really zero-touch. At a minimum you need to turn on WiFi, set language and location. GroundControl, on the other hand, allows for true touchless configuration.
During DEP setup, you often need an engineer to change some MDM settings. GroundControl can automate that, using your MDM-provided APIs. Then there's WiFi whitelisting, app configuration, etc. GroundControl can speak these languages. And our system for custom attributes means that GroundControl can automatically send different credentials to different devices, making this a very powerful combination.
Many organization think only about the initial deployment. But really, ongoing maintenance should be a much greater concern.
Why do I want to keep iOS up to date?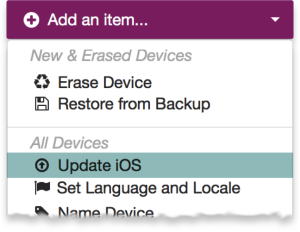 Security. Threat prevention is complex and industry-specific, but the experts all agree that up-to-date security patches are fundamental. That's easier said than done: patching systems for iOS are extremely limited, require Macs as caching servers, and don't give you any control over timing.
GroundControl solves those issues, and even buys you extra time to evaluate new patches before deployment.
How does GroundControl compare to Configurator?
GroundControl is like Apple Configurator on steroids.
GroundControl runs on Windows PCs as well as Macs. 75% of our customers run us on Windows.
We manage the full suite of mobile services, from MDM to WiFi controllers to app configs, not just the device setup.
Cloud-hosted administration means you can easily expand to a global scale.
We have Roles: Admins manage the system, and unprivileged users simply plug in the devices.
Devices are no longer tied to a single Mac.
Oh, and we're way quicker and more reliable too.
Does GroundControl support Android? Windows?
We support only Apple mobile devices. We can configure Apple iPad, iPhone, and iPod Touch running iOS 9 and above.
Does GroundControl work over the air?
No. GroundControl can configure iOS devices through a USB connection to a Mac or PC running our lightweight "Launchpad" software. The USB connection enables additional features beyond what MDM or DEP can do alone, such as a full device reset, iOS updates, imaging from a common backup, and operations even when WiFi is unavailable.
How large does GroundControl scale?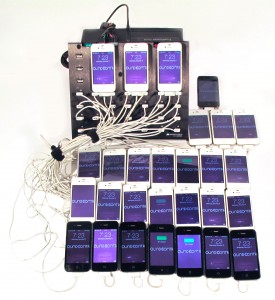 Using an enterprise-grade USB hub on a single Mac or Windows PC, our customers have used GroundControl to manage 100 devices at once. But that misses the point. Our cloud-distributed architecture allows your organization to manage an unlimited number of  locations to deploy in parallel anywhere around the globe. Our customers are deploying in over 60 countries today.
What is the pricing model?
GroundControl is sold as an annual SaaS license based on the number of devices. The license permits an unlimited number of Launchpads and deployments. We offer a generous discount for public schools. For a quote please email sales@groundctl.com.