We have another release for you this morning, chock-full of new features and improvements. Be sure to update your Launchpads to the latest release to get all the new features.
Workflow Folders
The marquee feature this month! Many of our customers have dozens or even hundreds of workflows, and they've waited patiently for this feature. To create folders and move your workflows, click the new "Organize" button in the Workflow list.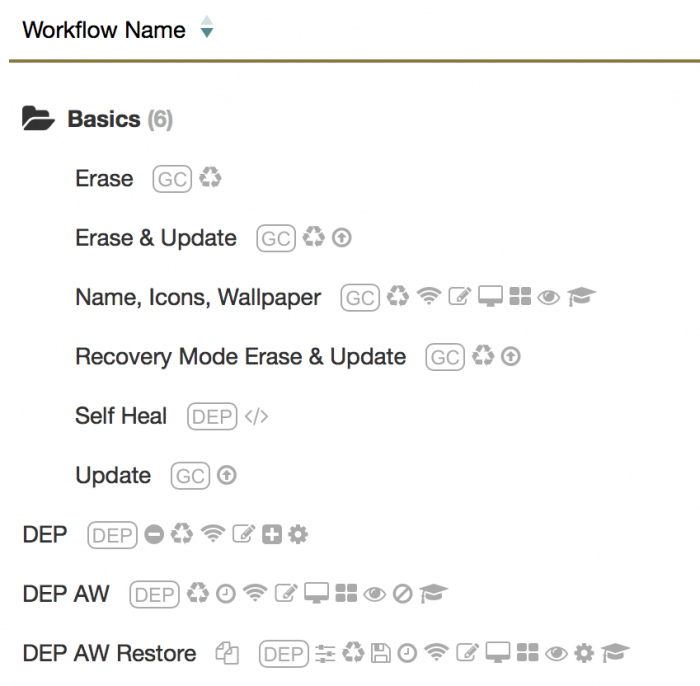 Several New Workflow Actions
Set Restrictions — you've always been able to set restrictions in your MDMs, but sometimes it's easier to use GroundControl. We may even include one or two restrictions that are hard to find in your MDM. Note that iOS devices will combine multiple restriction sets in the most restrictive way, so while you can always add restrictions, you can't use this system to remove them.
Lock to App — also known as "Single App Mode", GroundControl can disable the home button and lock your device to a specific app.
Multiple Launch App — this feature, added in GroundControl 3.2, may now be used for multiple apps in a single workflow.
Set Attribute — this advanced action allows you to set device attributes if the workflow was a success. Set Attribute can be useful for single-use workflows, copying Launchpad attributes to device attributes, and more.
Improvements for Enterprise-tier customers
Our customers on GroundControl's Enterprise tier can create a hierarchy to manage their organizations, representing individual hospitals, divisions, managed customers, or even cruise ships. We're adding a number of powerful features to better control these parent-child organizations.
New Navigation to Child Orgs — Quickly switch among your child orgs using this handy control in the navigation bar.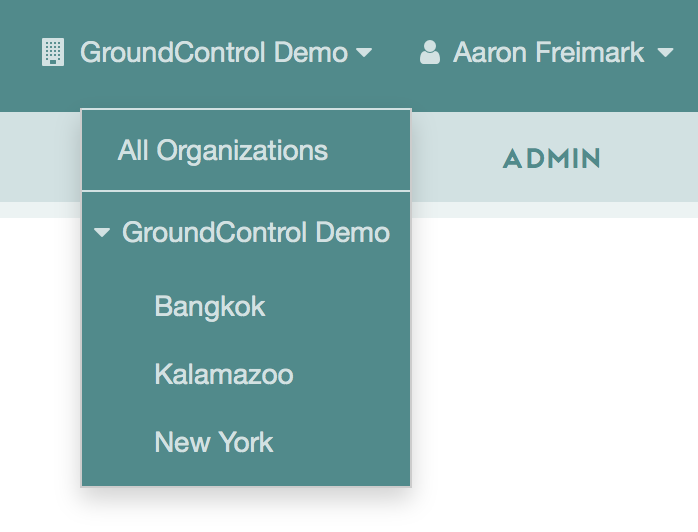 Workflow Inheritance — Workflows in a "Parent" org can now be inherited by children. These workflows become read-only in their children and use the MDM and assets from the parent. Changes to the parent are immediately reflected in the children.
Clone to Child — The "Clone Workflow" button now lets you specify a different organization to clone to. This will help for when the workflow inheritance isn't quite what you need.
More New and Improved in GroundControl 3.4:
A new automation rule layout, that should be prettier yet still familiar
Deployment "success" or "failure" messages no longer disappear after 5 minutes
Quicker DEP activations in many cases
Deployments no longer fail when Apple's activation servers are simply busy, instead we keep retrying (thanks Geoff, Robert, Tony, Luke, Matt, Brad — wow a lot of customers reported this one!)
We work much better with pass-thru on sleds from Infinite Peripherals and with certain other USB devices; a custom option is required for this mode
GroundControl can now restore backups onto DEP devices and preserve both app settings and system settings from the backup if the master backup must be prepared with careful consideration
GroundControl can now use a common registration and cache on a multi-user Windows PC, as long as you install it with special options
When the Mac or PC went to sleep then woke up, our software would be very cranky; we now are on good behavior (thanks, Willie!)
MDM: We no longer require an enrollment configuration profile to set up MDM integration — those of you using DEP-only didn't need that anyway
MobileIron Core "Assign to User" now works with Core version 9.3 (thanks, Matt!)
We now report IPSW decompression in the activity log, instead of "Downloading 103%"
A workflow with a "Reboot" action no longer creates pairing difficulties
Admins in a parent organization now receive emails when their child organizations have licenses expiring (thanks, Jorge!)
A corrupted download will now automatically attempt another download and retry, instead of just failing
When using Smart USB Hubs based on Cambrionix electronics, the LED status shows a more accurate status of the deployment
When using our SmartHub options, devices connected to dumb hubs never triggered deployments; now dumb hubs work too (no, we don't really call them dumb hubs, that would insult them)
SmartHub port number is now included in device exports, available in the API, and available as an attribute in web hooks (thanks, Michael!)
Deployments that get stuck may be automatically terminated by the server
The iOS Build number is now displayed in Device Details
MDM enrollment is more patient if you need to set up WiFi manually (thanks, Ramesh!)
Spreadsheet device import now converts all serial numbers to uppercase (thanks again, Jorge!)